Advance economically efficient, socially just, and environmentally sustainable access to public lands at all levels.
The Public Lands Team works with federal land management agencies at a variety of levels to characterize transportation needs and priorities. For example, Volpe staff work closely with the National Park Service's Transportation Branch to document and communicate alternative transportation assets. This helps the agency catalog its transit and intelligent transportation systems and communicate needs to Congress. Similarly, Volpe helps the U.S. Forest Service's Engineering Office program proposed transportation projects across the country and communicate how completed projects benefit national forests. Volpe also continues to work with the U.S. Fish and Wildlife Service to identify alternative transportation needs and opportunities at individual units across the country.
Resolve environmental challenges through data collection, modeling, and compliance activities.
The Public Lands Team supports federal lands management agencies in a number of capacities, including in the protection of biological, cultural, and soundscape resources. For example, Volpe biologists and National Environmental Policy Act (NEPA) practitioners help units with compliance documents, both for high-level management plans and specific projects. 
Project examples include Sabino Canyon in Arizona's Coronado National Forest and Virginia's Chincoteague National Wildlife Refuge. Volpe is also helping the Northeast Region of the National Park Service investigate the use of quieter pavement in its preservation of natural soundscapes. Also, Volpe maintains the Federal Aviation Administration's Aviation Environmental Design Tool and leverages the tool to help national parks develop air tour management plans.
Help units evaluate transit options and select alternative fuel transit vehicles.
The Public Lands Team supports individual federal lands units in assessing the feasibility of prospective land and water transit systems and selecting appropriate vehicles.
Volpe's work at Fort McHenry helped extend Baltimore's Charm City Circulator into the national monument and historic shrine. Volpe feasibility analyses helped identify a commercial opportunity for over-the-snow access to Kenai Fjords National Park and support the purchase of a new operations landing craft at Apostle Islands National Lakeshore.
Volpe has helped many units select alternative fuel vehicles, produced alternative fuel vehicle selection guidelines for the Department of Interior, and researched electric tram opportunities for the U.S. Fish and Wildlife Service.
Develop unit-level recommendations that support transit and nonmotorized transportation alternatives.
The Public Lands Team develops multi-dimensional alternative transportation solutions tailored to individual needs that balance resource management and visitor access needs. Working with Fort Stanwix National Monument in New York, Volpe made recommendations on nonmotorized trail connections, vehicular signage and wayfinding, parking, pedestrian access, and shuttle feasibility. Volpe also worked with Wichita Mountains Wildlife Refuge in Oklahoma to improve trail connectivity, pilot a bicycle share system, and explore a partner-provided transit connection to the neighboring military community. Similarly, Volpe worked with the White Mountain National Forest to explore car-free travel options in and around the forest.
Provide transportation support to unit and agency-wide management plans, helping balance resource management and visitor access.
The Public Lands Team works with units to craft long-term, fiscally constrained transportation plans. For example, Volpe is providing technical and project management support to the National Park Service's first long-range transportation plan. The plan will provide a national vision for transportation within the agency, strategically guide investments, and outline a series of financial scenarios. Also, Volpe helped Cuyahoga Valley National Park and Cuyahoga Valley Scenic Railroad develop goals, objectives, and performance measures to guide investment decisions for its railroad over the next 20 years. The Public Lands Team is also working with Kaua'i National Wildlife Refuge to develop traffic congestion and visitor safety solutions for its 15-year management plan.
Engage local, regional, and federal stakeholders and build consensus around transportation solutions.
The Public Lands Team has extensive experience engaging federal lands stakeholders and the general public and facilitating sustained partnerships.
For example, Volpe has a long-term relationship with Cape Cod National Seashore as well as Cape Cod's regional planning commission and transit authority. This partnership began with two transit studies in 2000 followed by several other efforts, all of which included significant outreach to local stakeholders. These efforts led to the development of the Flex bus service connecting towns to the National Seashore. More recent projects undertaken with public and private sector outreach include a shared-use maintenance facility, the Cape Cod Climate Change Scenario Planning Project, and a transit marketing initiative.
Propose and evaluate visitor use and advanced technologies.
The Public Lands Team helps federal lands units implement technologies that improve visitor information, reduce congestion, and track visitation. For example, Volpe worked with Gateway National Recreation Area on an automated entrance fee plaza and intelligent transportation system. Similarly, the Public Lands Team proposed and developed an integrated intelligent transportation system for seven beach parking areas in Cape Cod National Seashore. Volpe also created an interactive trip planning tool for Mississippi National River and Recreation Area. Volpe is currently lending support to a vehicle counter calibration pilot in seven U.S. Army Corps of Engineers regions.
Anticipate and respond to the effects of global climate change at unit and regional levels.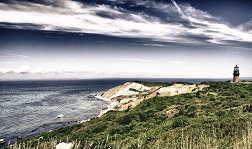 The Public Lands Team helps federal land units reduce greenhouse gas emissions and improve their resiliency to global climate change and severe weather events.
For example, Volpe worked on two interagency climate change scenario planning projects in Cape Cod and New Mexico. Each project helped bring together federal lands agencies and metropolitan and local partners. In the wake of Hurricane Sandy, Volpe is also working with the National Park Service in the northeast to develop a series of infrastructure and project prioritization strategies to help the agency mitigate the impact of future storms. The project includes flood modeling, identification of vulnerable transportation assets, and the development of strategies for agency engineers and decision makers.
Updated:
Wednesday, January 24, 2018