Isle Royale National Park: Transportation Study
Isle Royale National Park is a remote archipelago located in western Lake Superior, fourteen miles from the closest mainland and 60 miles from the park's headquarters in Houghton, Michigan. While visitors treasure the park's pristine environment and solitude, transporting visitors to and operating a park in such a remote location is costly. With the park spending roughly one million dollars annually on operation and maintenance of the transportation system, Isle Royale has the highest cost per visitor ($170) of any unit in the National Park System. In addition, the park's primary passenger and freight vessel, Ranger III, is reaching the end of its useful life. This study provides background information for park management to explore vessel upgrade or replacement alternatives, and possible alternative strategies to achieve its key missions.
This transportation study analyzes current and future transportation system needs at Isle Royale, identifies and evaluates alternative vessels and service models to meet those needs, and identifies measures to streamline and reduce the cost of park operations. The study includes four central analyses: missions, visitation, options, and alternatives.  The report defines what transportation activities are required to operate Isle Royale National Park, the impact of potential increases or decreases in visitation on these activities, and whether there are alternatives to the current ways of completing those missions.  The 24 transportation options were consolidated into four alternatives that met current transportation demand and one option that met parks needs for the high visitation scenario.  The alternatives included considering use of a crew boat or tug and barge for cargo and National Park Service-owned and operated or concessions provided high-speed passenger ferry service in addition to extending the life of Ranger III and building an equivalent Ranger IV. The report describes the capital and annual operating costs plus the steps required to implement each alternative.
The report concludes by recommending Isle Royale conduct a value analysis workshop incorporating Choosing By Advantages, using the data provided in this report to select a preferred alternative. The report also provides recommendations for identifying sources for capital funding, which range from $7.3 - $26.8 million, depending on the alternative.
Final Report, February 2015:
Isle Royale National Park Transportation Study (PDF)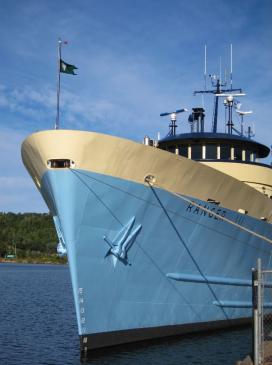 Ranger III at Isle Royale National Park (Volpe photo)
Last updated: Friday, October 30, 2015