Indiana Dunes National Lakeshore - Transportation Planning Study
Established in 1966, Indiana Dunes National Lakeshore now consists of approximately 15,000 acres along Lake Michigan. The Lakeshore manages scenic, fragile dunes and other ecosystems within its jurisdiction.
The Lakeshore's transportation system is unique in that it supports access to not only its sensitive and popular park resources but also a number of gateway communities. Additionally, although industrial and commercial activities adjacent to the park have declined in past decades, there are still several steel mills and the Port of Indiana abutting the park. The Lakeshore is situated within the Chicago Metropolitan Statistical Area, and millions of people are within an hour's drive of the park.
Volpe conducted an existing conditions assessment of the park and will build on that work by identifying transportation issues, needs, and potential projects to implement within the next five years.
Final Report, May 2016:
Indiana Dunes National Lakeshore Transportation System Existing Conditions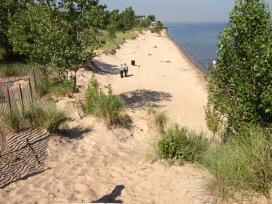 The Portage Lakefront and Riverwalk is one of the park's many access points to Lake Michigan. (Volpe photo)
Last updated: Monday, August 15, 2016