Glacier National Park Going-to-the-Sun Road Corridor Management Plan
Volpe provided transportation technical analyses to support the corridor management plan (CMP) planning process for Going-to-the-Sun Road in Glacier National Park, which is a historic treasure providing unparalleled access to sweeping vistas of the heart of the continent.
The CMP was conducted as major reconstruction of the historic road was being completed. Strategic decisions were needed to secure a quality visitor experience, protect resources, and address the financial sustainability of park and transportation operations.
Volpe supported the CMP and accompanying environmental impact statement by summarizing the existing transportation conditions, projected visitation, and financial trends, and providing technical analyses to support development of alternative management strategies and final recommendations.
The CMP is expected to be completed in mid-2019.
Existing Conditions Final Report, June 2014:
Going to the Sun Road Corridor Management Plan – Existing Conditions of the Transportation System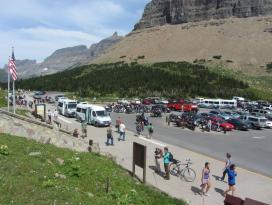 Logan Pass at Glacier National Park. (Volpe photo)
Last updated: Monday, August 15, 2016