Forest Service Long-Range Transportation Plan
The Volpe Center is developing a National Long-Range Transportation Plan (LRTP) for the Forest Service (FS). The LRTP provides a guiding vision and set of goals and objectives for the FS transportation program.
The FS road and bridge network provides access for recreation, timber, administration, and local/rural community access. These are critical roles, but often go unseen and underappreciated. The LRTP will highlight the valuable contribution transportation makes to the FS mission, and will help FS articulate challenges and accomplishments.
Challenges include a lack of data, funding, and staff capacity, while accomplishments include efficient use of available funding sources, and completion of projects that provide multiple benefits to multiple users—both public/internal and private/external.
Timeline: Volpe completed the draft LRTP in early 2021; the Washington Office is currently reviewing and developing recommendations for revisions.
Project Documents: Please come back soon to view final project materials.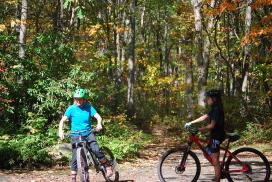 Last updated: Friday, April 30, 2021