Denali National Park - Alternative Fuel Mass Transportation Technical Assistance and Prototype Service Evaluation
Denali National Park and Preserve (Denali) is one of the largest protected intact ecosystems in the world and receives heavy visitation with over 400,000 visitors each year. In order to accommodate this high level of visitation, the park restricts private vehicle access with the aim of preserving the pristine wilderness through reduced congestion and noise, improved air quality and reduced impacts on wildlife. The transit system, consisting of 110 buses, travels over 1.2 million miles in the park each year. Denali has conducted analyses of numerous alternatives resulting in identification of hybrid bus technology as a natural fit to the unique vehicle demand characteristics imposed by the Denali Park Road, its operating requirements, climate and desired benefits.
Volpe is providing assistance regarding the feasibility of varied alternative fuel bus configurations for use on the Denali Park Road, including determination of appropriate vehicle requirements, market research and vehicle analysis, procurement assistance, and development of a multi-year evaluation protocol.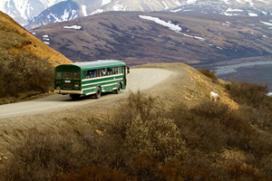 Denali National Park Shuttle (Image courtesy of NPS)
Last updated: Monday, June 17, 2019