SafetyHAT: A Transportation System Safety Hazard Analysis Tool
What Is SafetyHAT?
The transportation systems Safety Hazard Analysis Tool (SafetyHAT) is a software tool that facilitates hazard analysis using the System-Theoretic Process Analysis (STPA). STPA is a hazard identification method based on a top-down system engineering approach and control systems theory. While some familiarity with STPA is expected before using this tool, one of the primary goals of SafetyHAT is to help safety analysts become proficient with the STPA method. SafetyHAT includes transportation-oriented guide phrases and causal factors that tailor the STPA method to transportation systems.
STPA provides an algorithmic and well-guided analysis process that identifies the causes of system hazards, including:
Hardware component failures
Software errors
Complex system interactions
Human errors
Inadequate organization management, policy, and procedures
The output of STPA is a list of identified causes of hazards that can be used to:
Develop safety requirements and testing scenarios
Initiate risk analysis, risk control, and system assessment activities
Design and assess safety solutions
You can learn more about STPA here.
What Does SafetyHAT do?
SafetyHAT guides analysts through the preparatory and analysis steps of STPA by:
Providing a streamlined data entry process.
Directing analysts through STPA with a wizard-like format, with preloaded transportation-specific guidewords.
Enabling customization for other domains.
SafetyHAT leverages the power of a relational database to organize and manage the large quantity of data that the analysis may produce. It can:
Efficiently store large quantity of analysis data (a control system may generate over 10,000 entries).
Enforce data integrity when modifying or deleting data, reducing the analysts' burden during the iterations inherent to STPA.
SafetyHAT can facilitate the documentation of hazard analysis. It can:
Provide traceability from system-level hazards to component level causal factors.
Generate auditable documentation.
Further enable data sharing and reuse.
Allow new system analysis to expand upon previous analysis models and results.
To learn more about SafetyHAT, take a look at the user guide or view the following video:
How Do I Get SafetyHAT?
SafetyHAT is available for public use and can be downloaded for free. Click here to download.
Feedback and Suggestions
SafetyHAT is provided for free as an unsupported software tool. However, we do encourage users to provide feedback and suggested improvements by emailing SafetyHAT@dot.gov. Suggestions may be incorporated into future releases of SafetyHAT. If you wish to receive email updates when updates or a new version of SafetyHAT is available, please include your email address when registering using the link above.
If you plan on further developing and improving the functionality of SafetyHAT, please contact SafetyHAT@dot.gov.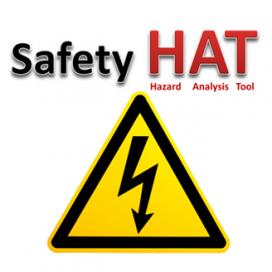 Last updated: Wednesday, March 15, 2023