Series Kickoff and Launch of the USDOT Project Delivery Center of Excellence
Pete Buttigieg
Secretary, U.S. Department of Transportation
Bent Flyvbjerg
First BT Professor and Inaugural Chair of Major Programme Management, University of Oxford's Saïd Business School and Villum Kann Rasmussen Professor and Chair of Major Program Management, IT University of Copenhagen
News and Video
Read the recap and watch the recording of our kickoff event.  
About the Speakers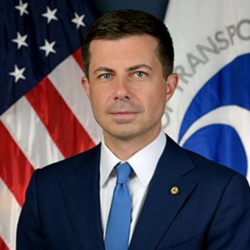 Pete Buttigieg serves as the 19th Secretary of Transportation, having been sworn in on February 3, 2021. 
His focus as Secretary is to deliver the world's leading transportation system for the American people and economy. He has worked to achieve organizational excellence in the department's operations, and to focus the department on five policy goals: safety, jobs, equity, climate, and innovation. In his first year at the Department, he prioritized supporting the development and passage of President Biden's signature Bipartisan Infrastructure Law. Since the law's passage, Secretary Buttigieg and his team have focused on effectively delivering the investments provided by this legislation, enabling the most significant improvements in U.S. transportation infrastructure in over half a century. 
The Secretary has also focused on intervening to support American supply chains dealing with shockwaves from the pandemic, including measures to help cut in half the long-dwelling container congestion at America's largest ports. Other major initiatives in his early tenure have included a comprehensive national roadway safety strategy to reduce deaths and serious injuries; delivery of emergency COVID-19 relief funds to transit agencies across America; and awards of over $9.5 billion in discretionary funding to enhance transportation through over 800 projects in communities across America. 
The first openly gay person confirmed to serve in a president's Cabinet, Secretary Buttigieg previously served two terms as mayor of his hometown, South Bend, Indiana, where he worked across the aisle to transform the city's future. Household income grew, poverty fell, and unemployment was cut in half. His work on transportation as mayor was nationally recognized, including an award for innovative streetscape design from the U.S. Department of Transportation where he now serves. 
He also served for seven years as an officer in the U.S. Navy Reserve, taking a leave of absence from the mayor's office for a deployment to Afghanistan in 2014. 
The son of Joseph Buttigieg, who immigrated to the United States from Malta, and Jennifer Anne Montgomery, a fifth-generation Hoosier, Secretary Buttigieg is a graduate of Harvard University and Oxford, where he was a Rhodes Scholar and completed a degree in philosophy, politics, and economics. He lives with his husband Chasten, their two children, Gus and Penelope, and their two dogs. 
Bent Flyvbjerg is the first BT Professor and inaugural Chair of Major Programme Management at Oxford University's Saïd Business School and the Villum Kann Rasmussen Professor and Chair in Major Program Management at the IT University of Copenhagen. He works for better leadership of programs in business and government. He is the most cited scholar in the world in project and program management and included on Stanford University's prestigious Top 2% of most cited scholars in the world. 
Flyvbjerg is the author or editor of 10 books and 250+ papers, translated into 20 languages. He has pioneered research in behavioral science, including power bias, strategic misrepresentation, optimism bias, the planning fallacy, and reference class forecasting. Nobel Laureate Daniel Kahneman calls Flyvbjerg's work on the planning fallacy and reference class forecasting, "the single most important piece of advice regarding how to increase accuracy in forecasting" (Thinking, Fast and Slow, p. 251). Flyvbjerg also writes about the philosophy and methodology of social science, and especially phronesis. His latest book is "How Big Things Get Done" (Penguin Random House, 2023), with Dan Gardner. 
Flyvbjerg is founder and co-founder of a dozen highly successful research groups, degree programs, and startups, latest at Oxford and ITU. His passion is to build new ventures from scratch, making them flourish academically, professionally, and commercially. 
He has received numerous honors and awards, including a knighthood and two Fulbright Scholarships. 
His research has been covered by Nature, Science, The New York Times, The New Yorker, The Wall Street Journal, The Economist, The Financial Times, China Daily, The BBC, and CNN. He is a frequent commentator in the news. 
Flyvbjerg is a senior advisor to government and business around the world, including 10 Downing Street, the US and Chinese governments, and several Fortune 500 companies. He is an external advisor to McKinsey & Co. He has worked on some of the largest projects and portfolios in the world, on front-end planning, delivery, rescue of failing projects, postmortems, de-biasing, audits, and as expert witness. He advises ministers, C-suites, and boards on how to deliver their programs successfully. 
Flyvbjerg is founding chairman of Oxford Global Projects.