Dr. Kaigham (Ken) J. Gabriel
Dr. Ken Gabriel is president and CEO of The Charles Stark Draper Laboratory, Inc., an independent not-for-profit research institution that develops innovative solutions to some of the nation's most critical problems in national security, space, biomedical systems, and energy.
Dr. Gabriel was most recently the deputy director of the Advanced Technology and Projects (ATAP) group at Google, which he helped establish when he joined the organization in 2012 as corporate vice president at Google/Motorola Mobility.
From 2009 to 2012, Dr. Gabriel was the deputy director, and then acting director, of the Defense Advanced Research Projects Agency (DARPA) in the Department of Defense, where he led an agency with an annual budget of $3 billion that is charged with managing the Department's portfolio of its most cutting edge projects to both create and avoid technology surprise.
Between 2002 and 2009, Dr. Gabriel, widely regarded as the architect of the Micro Electro Mechanical Systems (MEMS) industry, was the co-founder, chairman, and chief technology officer of Akustica, a fabless semiconductor company that commercialized MEMS audio devices and sensors. Akustica, based in the United States with a global supply chain and customer base, pioneered the use of digital silicon microphones and shipped more than 6 million units to the consumer electronics industry prior to being acquired in 2009.
Dr. Gabriel has been a tenured professor in both the Robotics Institute and the Department of Electrical and Computer Engineering at Carnegie Mellon University. He also served as a program manager and office director at DARPA, where he conceived and led projects that took MEMS out of the laboratory into practical applications. Earlier in his career, he was a visiting professor at the University of Tokyo, a research scientist at the Naval Research Laboratory, and a research principal investigator at AT&T Bell Laboratories.
His honors include being named a Technology Pioneer by the World Economic Forum at Davos, named to the Senior Executive Service, and awarded the Carlton Tucker Prize for Excellence in Teaching from the Massachusetts Institute of Technology.
Dr. Gabriel holds SM and ScD degrees in electrical engineering and computer science from the Massachusetts Institute of Technology.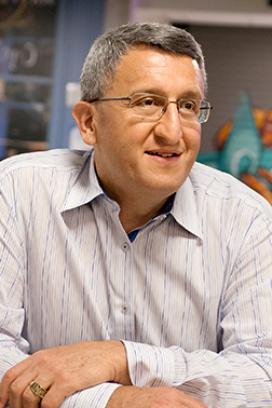 Last updated: Wednesday, September 2, 2015