Innovation for a Sustainable, Equitable Transportation System
Pete Buttigieg
Secretary, U.S. Department of Transportation
Greenhouse gas emissions from transportation account for about 28 percent of total U.S. greenhouse gas emissions. As we work together to address the profound climate crisis, the U.S. DOT Volpe Center's new speaker series, Innovation for a Sustainable, Equitable Transportation System, is exploring how to transition to a low-/no-carbon transportation system—one that enables disadvantaged communities to gain access to mobility, jobs, and economic opportunity.
Pete Buttigieg, Secretary, U.S. Department of Transportation (U.S. DOT), kicked off our 2021 thought leadership series, Innovation for a Sustainable, Equitable Transportation System, on Wednesday, June 2, 2021. U.S. DOT Deputy Assistant Secretary for Research and Technology and Chief Science Officer Robert C. Hampshire, PhD, moderated the event. 
About the Speakers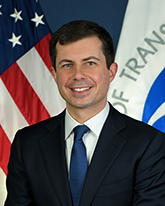 Pete Buttigieg currently serves as the 19th Secretary of Transportation, having been sworn in on February 3, 2021. 
Prior to joining the Biden-Harris Administration, Secretary Buttigieg served two terms as mayor of his hometown of South Bend, Indiana. A graduate of Harvard University and a Rhodes Scholar at Oxford, Buttigieg served for seven years as an officer in the U.S. Navy Reserve, taking a leave of absence from the mayor's office for a deployment to Afghanistan in 2014.
He is the son of Joseph Buttigieg, who immigrated to the United States from Malta, and Jennifer Anne Montgomery, a fifth-generation Hoosier. 
Growing up in South Bend—which was once home to Studebaker car manufacturing—Pete Buttigieg, like many other Americans in the industrial Midwest, grew up surrounded by empty factories and abandoned houses, sometimes hearing that the only way to a good future was to get out.
He returned to the Midwest after school, worked in the private sector, and was elected mayor of South Bend in 2011 with a focus on delivering a new future for the city through a fresh approach to politics and bold ideas.
Soon known as "Mayor Pete," Buttigieg worked across the aisle to transform South Bend's future and improve people's everyday lives. Household income grew, poverty fell, and unemployment was cut in half. The city established new resources to extend opportunity and access to technology for all residents, and he launched a "Smart Streets" initiative to improve street design in the downtown and the historically under-resourced West Side. This Complete Streets strategy led to benefits that included small business growth along previously neglected corridors, and hundreds of millions of dollars in new private investment in the once-emptying downtown.
His leadership helped spark citywide job growth and facilitated innovative public-private partnerships like Commuters Trust, a benefits program designed to improve the city's transportation experience for workers.
At the same time, Mayor Pete worked to build a South Bend community where every resident could feel safe and included. His initiative on municipal identification cards for residents helped to bring undocumented immigrants out of the shadows, while a small business incubator established in a historically Black neighborhood worked to expand opportunity, and a surge of investment went into repairing or removing abandoned houses in lower-income neighborhoods.
In 2019, he launched his historic campaign for president. Throughout 2020, he campaigned for the election of the Biden-Harris ticket and served on the advisory board for the presidential transition. In December, he was nominated by President-elect Biden to be Secretary of Transportation. He was confirmed by the Senate on February 2, 2021, becoming the first openly gay person confirmed to serve in a president's Cabinet.
Secretary Buttigieg lives with his husband Chasten and their rescue dogs, Buddy and Truman.
Robert C. Hampshire, PhD, serves as the Deputy Assistant Secretary for Research and Technology and Chief Science Officer of the U.S. Department of Transportation.
Hampshire was previously an associate professor at the Gerald R. Ford School of Public Policy at the University of Michigan. Hampshire was also a research associate professor in both the U-M Transportation Research Institute (UMTRI) and Michigan Institute for Data Science (MIDAS), as well as an affiliated faculty member in the Department of Industrial and Operations Engineering (IOE).
News and Video
Read the news story and watch the video of Secretary Buttigieg's talk from our 2021 speaker series kick-off event.