Embedding Equity in Project Delivery
Stephanie Wiggins
Chief Executive Officer, Los Angeles County Metropolitan Transportation Authority (LA Metro)
Emmanuella Myrthil
Chief Equity and Inclusion Officer, Southeastern Pennsylvania Transportation Authority (SEPTA)
News and Video
Read the recap and watch the recording of this event.
About the Speakers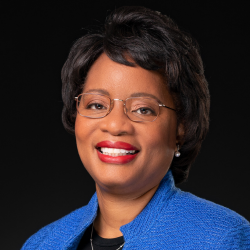 Stephanie Wiggins is the CEO of the Los Angeles County Metropolitan Transportation Authority (Metro), the lead transportation planning, programming, financing, and construction agency for the 10 million residents of LA County and the second busiest transit agency in the United States. As CEO of Metro, Wiggins leads a public agency with 11,000 employees and an annual budget of $9 billion. Wiggins also leads the nation's largest transportation capital improvement program, with $22.4 billion worth of projects currently under construction. A lifelong trailblazer and champion of equity and inclusion, Ms. Wiggins is the first woman – and first African American woman – to lead Metro. 
Over her three-decade career in transportation, Wiggins has led numerous initiatives that have driven innovation in the transportation industry and centered equity in the delivery of transit and transportation services. As CEO of Metro, Wiggins has led massive investments to improve the transit customer experience, including the creation of the nation's largest transit ambassador program and the implementation of the GoPass program, which provides free transit to K-12 and community college students. She has also overseen the delivery of two transit megaprojects, the $2.3 billion K Line in south LA and the $1.9 billion Regional Connector in downtown LA, and she has ensured Metro's transportation investments are as equitable as possible through the implementation of the Metro Equity Platform and Equity Zero-Based Budgeting (EZBB).
Before joining Metro as CEO in June 2021, Wiggins served as the CEO of Metrolink, the nation's third largest passenger rail system with 538 route-miles throughout Southern California. Prior to Metrolink, Wiggins was Deputy CEO of Metro, where she assisted the CEO in providing leadership, formulating, and achieving strategic public transportation objectives, including the passage of Measure M, a half-cent sales tax approved by 71 percent of voters in LA County. Earlier in her career, Wiggins led the creation of LA County's first high occupancy toll lanes, known as ExpressLanes and greatly expanded Metro's utilization of local, small, and historically underutilized businesses through new vendor procurement programming.  
Wiggins is a graduate of Whittier College and holds a Master of Business Administration from the USC Marshall School of Business. She has been the recipient of numerous awards including the 2020 National League of Railway Women's Woman of the Year award. She is the founding president of the Inland Empire Chapter of Women's Transportation Seminar, a Board Member of the Los Angeles Chapter of Friends of the Children, the Southern California Chapter of the American Heart Association, the Southern California Leadership Council, the Los Angeles Area Chamber of Commerce, and the Whittier College Board of Trustees.
 
Emmanuella Myrthil is SEPTA's Chief Equity and Inclusion Officer, a newly created role that demonstrates SEPTA's commitment to a healthy, vibrant, and rewarding environment for everyone who works at or does business with the Authority.
Myrthil builds and cultivates a culture within SEPTA that promotes inclusion, diversity, equity, and access for employees, customers, vendors, contractors, and diverse communities. She provides the vision, leadership, and direction for SEPTA's diversity and equity programs, including the Diversity, Equity, and Belonging (DEB) strategy and Disadvantaged Business Enterprise (DBE)programs. Myrthil provides counsel and guidance to the SEPTA Board and management team, and reports on SEPTA's equal opportunity compliance and equity-related statistics both to them and to outside regulatory agencies.  
Myrthil came to SEPTA from HNTB, a national infrastructure engineering and design firm, where she served as Division Diversity Director for the company's Southeast Division. At HNTB, Myrthil worked to change business as usual practices to remove barriers and expand access for minority businesses, as well as diversify small business participation in transportation projects throughout the Southeast. To create greater cultural effectiveness, shared learning, and increased engagement, she piloted an Inclusion, Diversity, Equity, and Allyship program at the company, and implemented a social responsibility employee resource group and adoption program to support Atlanta's Thomasville Heights Elementary School community.  
Myrthil brings more than 19 years of experience in the transportation industry. Prior to joining HNTB, she held various positions with the Georgia Department of Transportation. She is currently a Director at Large on the Women's Transportation Seminar (WTS) Foundation Board and has been active in the Conference of Minority Transportation Officials (COMTO), the American Public Transportation Association (APTA), the American Council of Engineering Companies (ACEC), and was named Engineering Georgia's 100 Top Influential Women in 2021 and 2022. Myrthil earned a Bachelor of Science degree in Journalism from the State University of New York at New Paltz.