Accelerating Project Delivery through Innovative Procurement, Partnerships, and Financing Methods: Part 2
Susan Shaw
PE, DBIA, CCM, Vice President, Subject Matter Expert – Major Program Development, ATCS
Brad Wieferich
Director, Michigan Department of Transportation
Mike Johnson
Senior Vice President – Infrastructure Market & Strategy, Kiewit
News and Video
Read the recap and watch the recording for this event.
About the Speakers
Susan Shaw is Vice President and Subject Matter Expert – Major Program Development at ATCS. She recently led the Virginia Department of Transportation Megaprojects Office in Northern Virginia.  She oversaw over $5 billion worth of projects that included Express Lanes on I-66 Outside the Beltway, I-495, and I-95. Prior to joining VDOT, she volunteered as an Engineer for the US Peace Corps in Thailand, and later worked as a design consultant in Northern Virginia. Susan has over 30 years' experience, a BS Civil Engineering (University of Virginia), and is a Professional Engineer, Certified Construction Manager, and is certified by Design Build Institute of America. In 2017, she received AASHTO's Alfred E. Johnson Achievement Award, and in 2022, she received VDOT's Outstanding Achievement Award for leadership.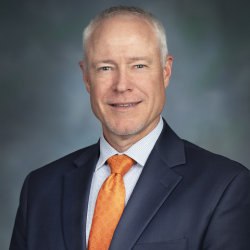 Bradley C. Wieferich, P.E., was appointed Director of the Michigan Department of Transportation (MDOT) on May 30, 2023, by Governor Gretchen Whitmer. He has served the department for 27 years in several capacities, most recently as the Chief Operations Officer and Chief Engineer. Wieferich has also held the positions of Director for the Bureau of Development, Engineer of Design, and was the Manager of the Marshall Transportation Service Center. He has worked in three different MDOT regions, and as a road design engineer in the central office. Prior to joining MDOT, he was employed for three years as a field engineer by a consulting firm in the greater Chicago area.  
Wieferich is a leader at MDOT, as well as nationally, by serving on AASHTO's Board of Directors and Council on Highways and Streets. He also represents the department on the State Transportation Innovation Council and the Council on Future Mobility and Electrification and the Mackinac Bridge Authority. In addition, Wieferich serves as the American Association of State Highway Transportation Official's liaison to the Transportation Association of Canada Chief Engineers' Panel and is a co-lead for the Michigan Liaison Committee for the Gordie Howe International Bridge project.  
Wieferich is a graduate of Michigan State University ('92) and holds a bachelor's degree in Civil Engineering. 
Mike Johnson is the senior vice president of markets & strategy of Kiewit Infrastructure Group, part of Kiewit Corporation. Focused on integrated delivery, he brings more than 30 years of executive management experience in the industry to help lead this fast-growing, dynamic part of Kiewit's business. Mike is infrastructure's business line manager where he works closely with our clients and 3rd party engineering partners to secure new infrastructure-focused opportunities across North America. Mike has demonstrated expertise in building teams, driving opportunities in the infrastructure sector, and communicating strategic messaging on integrated delivery with partners and clients. 
Prior to joining Kiewit in June 2019, Mike served as vice chairman and chief development officer of Parsons Corporation, where he was responsible for implementing a global client development program, and previously the president of Parsons Infrastructure.