Accelerating Project Delivery through Innovative Procurement, Partnerships, and Financing Methods: Part 1
Adie Tomer
Senior Fellow, Brookings Institution
Maria C. Lehman
PE, ENV SP, F.ASCE, President - American Society of Civil Engineers
Dr. Morteza Farajian
Executive Director, U.S. DOT Build America Bureau
News and Video
View the recap and recording for this event.
About the Speakers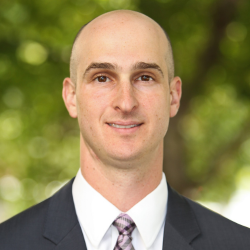 Adie Tomer is a Senior Fellow at Brookings Metro and leads the Metropolitan Infrastructure Initiative. Tomer is an expert in infrastructure policy and urban economics, with a particular focus on transportation and digital technology issues. Tomer's work has received coverage and citations in international print publications and other media outlets, including The Economist, Wall Street Journal, New York Times, Washington Post, National Public Radio, and the BBC. Tomer has testified in front of the U.S. Congress about the future of American infrastructure and has advised staffs of presidential candidates. 
Tomer leads a team whose work aims to better understand how infrastructure policies—from the federal through local level—impact economic development, social prosperity, and environmental resilience. Their work covers multiple infrastructure sectors, including transportation, water resources, and broadband. Tomer's team regularly publish long-form reports and targeted analyses on topics including metropolitan transportation behavior, the infrastructure workforce, and the economic dimensions of the digital divide. 
Tomer holds a master's in public policy from American University and a B.A. from the University of Florida. Tomer currently sits on the Advisory Board of the Eno Transportation Foundation.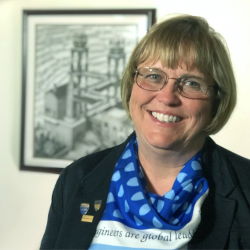 Maria Lehman, P.E., NAC, ENV SP, F.ASCE, is GHD's infrastructure market leader for the United States since May 2020. Maria was the former vice president for critical infrastructure for Parsons, COO and acting executive director of the New York State Thruway Authority, and commissioner of public works for Erie County, New York. She has over 40 years of diverse, increasingly responsible, multi-disciplinary technical and leadership experience, both in the private and public sectors and in traditional and alternative delivery.   
She has served as principal-in-charge, project executive, program and project manager, and project engineer on more than 700 projects which required everything from scoping, planning, environmental studies, preparation of plans, specifications, estimates, construction management, and operations and maintenance – ranging in size from $10,000 to $3.9 billion. Her strength has been around complex element coordination – well-developed project communications, government, and community relations, including innovative finance and grants—and fast-track implementation on complex projects. She has successfully led alternative delivery projects, such as design-build, best value, and public-private partnerships. Following the historic passage of the Bipartisan Infrastructure Law, she was appointed to serve on President Biden's National Infrastructure Advisory Council in 2022.  
Lehman has served ASCE since her days at UB, first as a student, then as a younger member. She co-founded the Northeast Region Younger Members Council in 1983 and stayed active in her section, serving all board positions including president in 1990, while her husband Carl was president-elect. She was a delegate to the NYS and District 1 Councils and became a society director in 1993, followed by Zone 1 vice president in 2001. She has continuously served or chaired numerous society-level committees, councils, and institutes since 1993. She returned to the Society's Board of Direction in 2018 as assistant treasurer.  
Lehman has won numerous national, statewide, and local awards including the ASCE President's Medal, Edmund Friedman Young Engineer Award, UB's School of Engineering Alumna of the Year, and the New York State Society of Professional Engineers Engineering Manager of the Year.  She received her bachelor's degree in civil engineering at the State University of New York at Buffalo, magna cum laude, and is a licensed professional engineer in several states.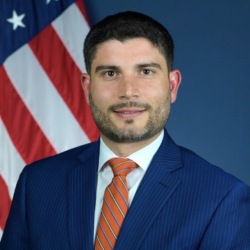 Dr. Morteza Farajian has served as a senior executive leading the Build America Bureau at USDOT (the Bureau) since April 2019. He is responsible for credit programs and loan guarantees with $29 billion in the existing portfolio and more than $22 billion allocated, issued, or pending in private activity bonds that support development of large-scale and multimodal transportation infrastructure. The Bureau also promotes innovative project financing solutions and helps state and local governments develop and finance Public-Private Partnership (P3) transactions for transportation facilities. 
Prior to this position, Dr. Farajian served as acting Deputy Secretary of Transportation and Director of Public-Private Partnerships (P3) Office in Virginia. Over a period of seven years, he led procurement, financing and contract negotiation of multiple multi-modal transportation projects totaling $10 billion in value. Under his leadership, the P3 program in Virginia was reformed to promote competition, engage stakeholders and increase accountability. He established the first strategic program to manage a portfolio of P3 contracts post-procurement totaling $14 billion in project value. 
Dr. Farajian is also an entrepreneur who co-founded a crowd-financing platform that provides local and small investors the opportunity to invest in infrastructure projects as equity or subordinate debt. He has proven experience in successfully leading multi-disciplinary teams and diverse expertise in P3 transaction structuring and negotiation, organizational transformation, business development, public policy, stakeholder management and project planning/finance. 
He received his Ph.D. and M.Sc. degrees in Project Management from the University of Maryland. He also has a B.S. degree in Civil Engineering.