Inside the Federal Aviation Administration's Proving Ground on Cape Cod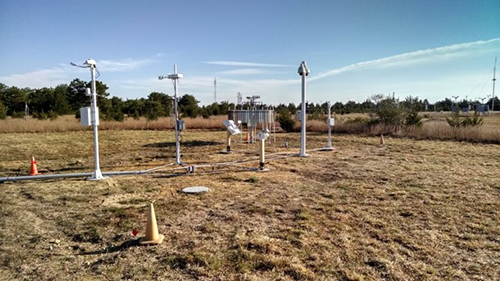 The Volpe Center maintains a 155-acre Aviation Weather Research Facility (AWRF) located at Joint Base Cape Cod (JBCC) in Falmouth, Massachusetts. This facility is uniquely capable of performing validation and verification of a wide variety of complex atmospheric and meteorological sensors that measure visibility, rainfall, wind, and cloud ceiling.
Volpe has a 30-year history at AWRF, testing the performance of weather-related instruments for numerous transportation and military-related projects.
The Challenge
The Federal Aviation Administration (FAA) is modernizing the National Airspace System (NAS) to ensure that the NAS is as efficient and safe as possible for air travelers. To succeed in modernizing the NAS, it is critical that FAA weather systems generate highly accurate data using sensors that are tested and validated in real conditions.
The Solution
The climate at AWRF is ideal for testing low-visibility sensors and weather sensors under a variety of atmospheric conditions. Weather conditions vary widely throughout the year for snow, rain, wind speed, and temperature, while the ocean nearby produces frequent nighttime and early morning fog and low clouds.
The comprehensive suite of aviation weather sensors at AWRF currently includes the following:
Runway visual range sensors—including older transmissometers and newer computer-based sensors—for measuring runway visibility so that pilots make safe decisions during approach and landing.
Anemometers, which measure wind speed.
Sensors measuring prevailing visibility, rainfall, humidity, and atmospheric pressure.
Fog spectrometer.
Surveillance camera.
This combination of extremely accurate weather sensing equipment and diverse weather conditions provides an ideal environment to test and validate future technologies associated with low-visibility and adverse weather operations.
Volpe is concluding the testing of winter weather sensors that can accurately and automatically identify a variety of intermediate precipitation, such as freezing rain, freezing drizzle, and ice pellets. Weather observers identify these precipitation types at selected high-volume airports and manually enter them into data systems that pilots use.
The Impact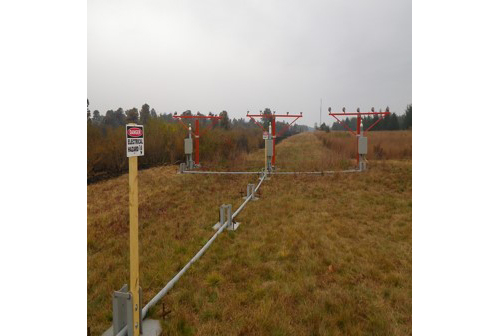 The Aviation Weather Research Facility plays a critical role as a proving ground for airspace modernization technologies that help air traffic controllers and pilots negotiate poor weather.
Current projects that Volpe manages at the facility include the following:
Assessing new energy-efficient LED lighting systems for airports.
Testing the accuracy of runway visual range prototype sensors against legacy transmissometers.
Testing technology that automatically detects and reports significant freezing and frozen winter weather precipitation, which is currently observed manually.
Sponsor
Federal Aviation Administration
Last updated: Thursday, April 1, 2021