System Enables Drone Operators to Detect and Avoid Other Aircraft
In recent years, unmanned aircraft systems (UAS)—also known as drones or remotely piloted aircraft—have become an essential alternative to manned aircraft in many applications. Hazardous situations for human pilots in areas such as environmental monitoring, law enforcement, and disaster relief can now be easily mitigated by using UASs. 
By 2021, there could be 4 million drones in the hands of hobbyists and commercial users, according to projections from the Federal Aviation Administration (FAA). This substantial increase in demand places a tremendous burden on FAA to maintain critical safety standards for the flying public.
The Challenge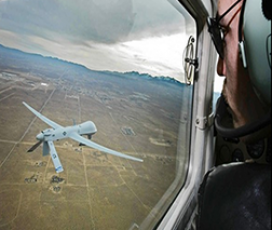 The primary safety concern with drones is the inability of remote operators to "see and avoid" other aircraft. Federal regulation requires pilots to be aware of all other surrounding aircraft—either visually or using on-board instrumentation—and to safely avoid near-misses or collisions.
Because there is no pilot physically onboard a UAS, remote operators and autonomously operated aircraft must resort to limiting and sometimes impractical means of seeing and avoiding other aircraft, such as ground-based observers or chase aircraft behind a drone.
The Solution
To address this challenge, Volpe has worked with the U.S. Air Force to develop and deploy a low-cost automated solution that enables UAS operators to detect and avoid other aircraft.
The ground-based detect and avoid (GBDAA) capability uses existing air traffic data from multiple sources to provide UAS operators with a real-time display of aircraft in the surrounding airspace. GBDAA alerts operators to potential conflicts with neighboring aircraft and recommends avoidance maneuvers for UAS in the event that a conflict does occur.
The primary component of GBDAA is a modified FAA terminal automation system that ingests and displays surrounding aircraft to a UAS operator. GBDAA leverages existing NAS radar equipment and infrastructure to locate surrounding aircraft, and can also track non-cooperative aircraft—aircraft that cannot electronically broadcast their position or speed. 
Since 2011, Volpe engineers and analysts have contributed key technical expertise to the GBDAA initiative, including the following:
Hardware configuration
Software testing
System architecture analysis
Post-demonstration data analysis
Volpe has worked with industry collaborators from the MITRE Corporation, MIT Lincoln Laboratory, and Raytheon.
The program began as a proof-of-concept demonstration in Gray Butte, California, and grew into a fully functional system at Cannon Air Force Base (AFB) in New Mexico. The Air Force uses GBDAA for its UAS missions at Cannon AFB to ensure separation and conflict avoidance with civilian air traffic. 
The Impact
Volpe's work on the GBDAA program helps accelerate the safe integration of drones into the national airspace.
The Air Force currently operates drones in segregated volumes of airspace called military operations areas, which are meant to protect civil aircraft operating in surrounding airspace, but which also reduce the available airspace for these aircraft to fly—in some cases, adding several hundred miles to a preferred route. With GBDAA, the Air Force can begin to routinely operate UAS missions in non-segregated airspace, thereby reducing the size of these military operations areas.
In April 2014, FAA granted the Air Force permission to conduct unimpeded daily UAS operations at Cannon AFB without the use of ground observers or chase aircraft. Volpe has since been supporting the Air Force in identifying and evaluating additional sites across the U.S. for GBDAA deployment, such as Beale AFB in California, Grand Forks AFB in North Dakota, and Wilmington Air Park in Ohio.
Recently, Volpe has worked closely with the Air Force and the Ohio Department of Transportation to deploy GBDAA at Springfield-Beckley Municipal Airport (KSGH) in Springfield to test technologies that may enable safe and efficient flight of small RPA. To meet specific mission needs of the Air Force at KSGH, Volpe experts engineered an innovative solution—a mobile command center outfitted with a full suite of GBDAA equipment.
The result for civil aircraft is an increase in available airspace, enabling more direct routes and less time and distance flown—while still maintaining critical safety standards for the flying public. An additional benefit is a reduction in overall aviation fuel emissions, as more direct routes typically use less fuel than longer routes.
Air Force Briefing
Volpe ground-based detect and avoid (GBDAA) lead engineer Jason Glaneuski supported a briefing to Air Force Secretary Deborah Lee James at Hanscom Air Force Base in Bedford, Massachusetts. The briefing highlighted operational cost savings after Cannon Air Force Base in New Mexico implemented a GBDAA capability for operators of unmanned aircraft systems.
Last updated: Thursday, March 4, 2021