Monitoring the Skies with ADS-B
The Federal Aviation Administration (FAA) tapped into Volpe's expertise in program management and system engineering to help create a highly accurate and reliable system for tracking aircraft, called Automatic Dependent Surveillance-Broadcast (ADS-B)—a critical component of FAA's Next Generation Air Transportation System (NextGen).
ADS-B replaces or supplements traditional radar-based surveillance of aircraft and represents a major change in surveillance philosophy: instead of using ground-based radar to interrogate aircraft and determine their positions, each aircraft will use GPS to find its own position and then automatically report it.
The Challenge
Traditional radar uses technology that is more than seven decades old. Radar technology has improved over the years, but there are still inaccuracies and time lags; aircraft are not exactly where they appear on an air traffic controller's radar screen, for instance, and depending on the flight phase, it can take up to 12 seconds for radar to refresh.
FAA's NextGen program demands precision to efficiently manage increases in air travel.
The Solution
ADS-B is a new technology that allows air traffic controllers to see traffic with more precision than ever before. Instead of relying on decades-old radar technology, ADS-B uses highly accurate GPS signals. As a result, ADS-B works where radar often doesn't—even in remote areas or mountainous terrain. And because it can function at low altitudes and on the ground, it can also be used to monitor traffic on airport taxiways and runways.
Volpe has been involved in many aspects of the FAA ADS-B program, including conducting system engineering, risk management, field engineering, testing, safety and hazard assessment, avionics certification, and software development.
There are three major benefits driving the transition to ADS-B:
The GPS positions that are reported by ADS-B are more accurate and more consistent than the current radar positions. This capability allows closer aircraft spacing, providing much-needed capacity improvements in congested airspace.
ADS-B surveillance is easier and less expensive to deploy than ground radar.
Because ADS-B is a broadcast service that can be received by other aircraft as well as air traffic control on the ground, ADS-B offers the option for an aircraft to have accurate and inexpensive traffic awareness of other nearby aircraft.
Air traffic controllers will be able to reduce congestion, noise, emission, and fuel consumption through more efficient routing and resource management. Because the system has the ability to provide pilots access to detailed traffic information, ADS-B also represents a leap forward in pilot situational awareness and will greatly enhance the safety of all those in the air.
The Impact
Before ADS-B, aircraft over areas with limited surveillance and air-ground communication, like the Gulf of Mexico, had to fly far apart because aircraft need more space when radar cannot extend across large bodies of water or uninhabited areas. The Gulf, for instance, has been treated as oceanic airspace, with aircraft separations of 10 to 15 minutes. However, ADS-B stations on oil platforms allow separations of only 1 to 2 minutes in the Gulf.
ADS-B generally gives pilots greater situational awareness and allows aircraft to fly at economically efficient altitudes. When airplanes fly a more efficient path—for example, when pilots don't have to stagger climbs and descents—fuel is saved. Pilots can also request higher altitudes that may be more fuel efficient. With ADS-B, aircraft become active players in the surveillance system.
By 2020, commercial aircraft in the United States will need to have an ADS-B Out transmitter, which will broadcast aircraft positions and other information to air traffic control. ADS-B In, which gives pilots a better sense of traffic in the surrounding airspace, will remain optional. By 2017, most commercial aircraft in the European airspace will have ADS-B.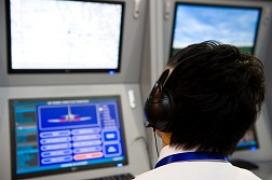 ADS-B allows air traffic controllers to see traffic with more precision than ever before. Instead of relying on decades-old radar technology, ADS-B uses highly accurate GPS signals, which works even in remote areas or mountainous terrain. (hxdbzxy/123RF photo)
Last updated: Friday, June 26, 2020