Our Community Impact
A presence in Kendall Square since 1970, the U.S. DOT Volpe Center has been a good neighbor, contributing to the vibrancy of Boston's innovation hub through the following efforts:
The U.S. DOT Volpe Center's commitment to public service extends beyond its day-to-day work. Through longstanding outreach programs, team members volunteer time to empower and mentor students in the community, support federal and local charitable giving initiatives, and cultivate environmental stewardship.
Since the U.S. DOT Volpe Center's staff is comprised of 580 employees in fields as technical and varied as aerospace engineering and environmental planning, it is no surprise that we value educational outreach.
The U.S. DOT Volpe Center's educational outreach efforts include the following programs:
Lunch Buddies
The Lunch Buddies program is a collaborative effort between U.S. DOT Volpe Center and the neighboring Kennedy-Longfellow Elementary School in East Cambridge. Volpe staff volunteer time during their lunch breaks to read to second- and third-graders during the school year. The program enhances children's interest in reading and provides U.S. DOT Volpe Center staff with an opportunity to give back to the community.
Now in its 17th year, Lunch Buddies has attracted 421 U.S. DOT Volpe Center volunteers since its inception. Eighty employees are currently volunteering for the program. The Cambridge School Volunteers, a local non-profit organization, provides oversight for the Lunch Buddies program and awarded U.S. DOT Volpe Center a certificate of appreciation in 2013 for 15 years of continuous volunteerism.
Kendall Square Learning Project
The Kendall Square Learning Project (KSLP), formed in 1992, is a non-profit, charitable organization that provides classes in English as a Second Language and teaches basic life skills topics. Classes are provided by Volpe volunteers at no cost to students and are open to anyone. KSLP is based in Kendall Square, Cambridge.
Summer Transportation Institute
Every summer, the U.S. DOT Volpe Center and the Federal Highway Administration host a group of over 50 high school students who are part of the Summer Transportation Institute programs at Merrimack College and the University of Massachusetts in Amherst and Boston.
The program helps address the need for a diverse workforce in the 21st century by helping students become more aware and take advantage of opportunities that exist within the transportation industry.
During their visit to U.S. DOT Volpe Center, students see the impact of our human factors research when they use our flight and railroad simulators. They learn about our global maritime domain awareness/Maritime Safety and Security Information System (MSSIS) technology in our MSSIS Laboratory. They are also exposed to our work with NextGen technology for the Federal Aviation Administration and crash energy management technology for the Federal Railroad Administration.
At the end of their visit, they learn about future transportation-related job opportunities within the federal government.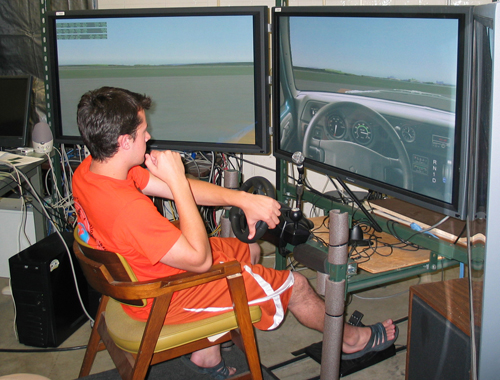 U.S. DOT Volpe Center observes a tradition of giving and participates through the following efforts:
Combined Federal Campaign
The Combined Federal Campaign (CFC) is the largest workplace charity campaign in the United States, and the only campaign authorized to solicit and collect contributions from federal employees in the workplace on behalf of charitable organizations. The U.S. DOT Volpe Center has been a part of CFC for over 40 years.
Donations of Surplus Equipment, Furniture, and Clothing
Recognizing that every bit helps, U.S. DOT Volpe Center has donated our surplus equipment and office furniture to the following nonprofit organizations and institutions:
• Coastal Connections 
• Community Action Agency of Somerville, Inc. 
• Everett High School 
• New England Demolition & Salvage 
• Opportunity Knocks
• St. Anthony School 
• St. Catherine's School
• West Bridgewater High School
U.S. DOT Volpe Center employees have also donated clothing, appliances, and other items to the following charities:
• Cell Phones for Soldiers
• Got Books
• New Eyes for the Needy
• More Than Words
• Rosie's Place
Feds Feed Families
Feds Feed Families is a nationwide, government-wide summer food drive to collect food from federal employees and distribute it to food banks across the country. During the annual drive, U.S. DOT Volpe Center typically contributes food to three local non-profit organizations: the Margaret Fuller House, East End House, and Food for Free Committee, Inc. In 2020, U.S. DOT Volpe Center staff donated more than 14,000 pounds of food.
Toys for Tots
The U.S. DOT Volpe Center participates in the annual U.S. Marine Corps' Toys for Tots program. The mission of the toy drive is to collect new toys during the holiday season and distribute those toys as gifts to children who come from homes of limited resources.
Environmental Stewardship
U.S. DOT Volpe Center actively participates in environmental stewardship efforts on its campus. Leading many of these efforts is the U.S. DOT Volpe Center Green Team, comprised of employee volunteers whose goal is to make U.S. DOT Volpe Center a "greener" organization. Its two core functions are to improve the environmental performance of U.S. DOT Volpe Center's campus and educate employees about waste reduction, water conservation, energy efficiency, and procurement methods that reduce risks to human health and the environment.
Working with U.S. DOT Volpe Center leaders, the Green Team has helped initiate energy efficiency, water conservation, waste reduction, and recycling efforts. The team has also spurred outdated equipment donations and green transportation efforts by encouraging regular telework efforts and the use of greener transportation options such as public transportation.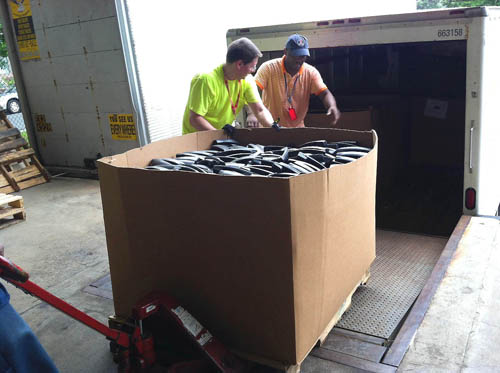 The Green Streets Initiative recognized U.S. DOT Volpe Center as the first-place winner of the 2015 Walk/Ride Day Corporate Challenge among local employers in the "large businesses" (301-2,000 employees) category. The Walk/Ride Day Corporate Challenge is an annual competition among Boston and Cambridge area employers to determine which organization is the green commuting champion.
The City of Cambridge has also recognized U.S. DOT Volpe Center for its environmental stewardship, giving us the Go Green Award in the large business category for waste reduction during the city's annual Go Green Month Celebration. In addition, U.S. DOT Volpe Center received a "Green Binnie" Award at MassRecycle's 20th Anniversary celebration. The award is given to individuals or organizations in recognition of outstanding achievements in and contributions to recycling and source reduction in Massachusetts.
The U.S. Department of Transportation honored the U.S. DOT Volpe Center Green Team with the Green Team Results Award in 2012 at the DOT Sustainability Achievement Awards ceremony. The award recognizes a team that implements workplace changes to make the working environment "green" and provides training and resources to empower employees to reduce waste through reuse, recycling, and composting.
Local Memberships
The U.S. DOT Volpe Center is a member of the following organizations:
Cambridge Chamber of Commerce
The Cambridge Chamber of Commerce is a local non-profit organization that represents all sectors of the Cambridge economy. Its 1,530 members have expertise in government affairs, business development, professional development, and business philanthropy.
The Kendall Square Association
The purpose of the Kendall Square Association is to improve, promote, and protect Kendall Square through the collaboration of organizations based there.
The Greater Boston Federal Executive Board
The Greater Boston Federal Executive Board (GBFEB) was established in 1961 and serves as the federal presence in the Greater Boston area representing approximately 150 federal agencies. 
Last updated: Thursday, March 23, 2023