White River National Forest and Pitkin County: Maroon Bells Shuttle Staging Study
The White River National Forest (WRNF) is the most visited national forest in the country and manages resources and activities across more than 2.4 million acres of forest in the west central part of Colorado. The Forest occupies parts of nine counties and is administratively divided into five ranger districts, including the Aspen-Sopris Ranger District. Pitkin County is located within this District and is home to world-class skiing, hiking, and other outdoor activities.
In 2017, WRNF asked the Volpe Center to analyze parking and traffic congestion in and near the Aspen Highlands parking deck, which is the point of origin for the Maroon Bells shuttle system. This system provides exclusive access from Aspen Highlands to the popular Maroon Bells Scenic Area and the Maroon Bells-Snowmass Wilderness in the Aspen-Sopris Ranger District. 
The complexities of this project center around the following issues: 1) Parking and staging for bus transit (provided by the Roaring Fork Transportation Authority) is beyond capacity on peak weekends under the current management system and 2) parking and staging at the Aspen Highlands terminal is on private lands, and the impacts to affected land owners and managers need to be evaluated and mitigated. Volpe's expertise was needed to identify and document viable solutions determined through collaborative outreach efforts with the Forest, City of Aspen, Pitkin County, Roaring Fork Transportation Authority (RFTA), Aspen Ski Company, and other stakeholders.
Given these issues, Volpe and the stakeholders used these resources to develop management options for the Maroon Bells. One option included a parking and shuttle reservations system, which was implemented in 2020 and reviewed and revised for the 2021 season.
Final Report, November 2019:
Pitkin County Maroon Bells Survey Report (PDF)
Final Report, October 2019:
White River National Forest Maroon Bells Scenic Area Shuttle Staging Study Report (PDF)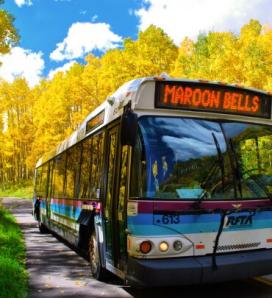 Last updated: Friday, April 30, 2021